Retaining Walls - Concrib Range



CONCRIB Walls
CONCRIB has been operating since 1984 in Queensland, New South Wales, Victoria, South Australia and overseas. With over 20 years of experience in these market areas, we offer a complete design and construction service for the following systems

Concrete crib retaining walls
Concrete sleeper retaining walls
Gabion and rock mattress structures
Rock fall netting protection
Segmental Geo grid reinforced retaining walls
Interlocking block protection systems for bridge abutments, boat ramps, channel linings, etc.



STRENGTH & BEAUTY
CONCRIB Retaining Walls are low cost, of open web construction and can be quickly and inexpensively erected. They can be used almost anywhere a retaining wall is needed – driveways, building sites, garden areas, and when planted out will add beauty and value to your property.
CONCRIB walls are gravity retaining walls constructed from interlocking precast concrete components, filled with free draining material and earth backfill, eliminating the hazards of hydrostatic pressure building up behind the wall.
EASE OF CONSTRUCTION
CONCRIB walls do not require skilled labour and are easily and quickly erected. Components can be handled by two men and there are no costly foundations involved.


STABILITY, STRENGTH AND SAFETY
The open web construction and use of free draining material eliminates two common causes of failure in retaining walls, namely build up of hydrostatic pressure and the destructive pressure of tree root systems. The high quality precast concrete components provide for long term durability and will not rot or warp.


LOW COST
CONCRIB standard quality components allow for the most economical solutions for various wall heights. The design of CONCRIB walls allows speed and ease of construction for minimum cost and require little or no maintenance.
APPEARANCE
A CONCRIB wall can be planted with flo
wers, shrubs or creepers using the spaces in the face of the wall, to blend in with any existing or proposed environment.
ADAPTABILITY
CONCRIB walls can be constructed to follow gentle curves, slopes, undulating terrain and can go around corners easily. Flexibility is a key word in the construction of a CONCRIB wall allowing for temporary retaining walls, due to the ability to dismantle and re-erect components as required. Where construction is required in stages, due to finance, weather or other factors, our walls are ideal as there is no permanent connection between components, allowing sections of wall to be continued when and where required.


DESIGN
CONCRIB walls are designed as gravity retaining walls using a system of four header sizes for various wall heights. Combinations of header sizes can be used for different wall heights and walls even up to 20m in height can be catered for. The performance of the CONCRIB system and components have been fully evaluated and tested by the Queensland University of Technology and a full report is available on request.

CONCRIB Concrete Sleeper Walls
CONCRIB Sleeper Walls are a unique product that combines the strength and durability of concrete with the beauty of a wood grain finish.
Units are manufactured using grey concrete only but can be spray sealed any colour you require.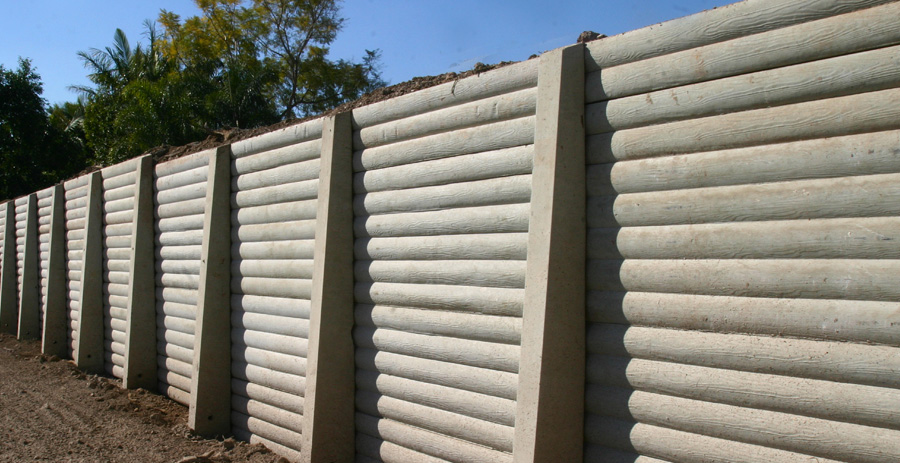 CONCRIB has been operating since 1984 in Queensland, New South Wales, Victoria, South Australia and overseas. With over 20 years of experience in these market areas, we offer a complete design and construction service for the following systems

Concrete crib retaining walls
Concrete sleeper retaining walls
Gabion and rock mattress structures
Rock fall netting protection
Segmental Geo grid reinforced retaining walls
Interlocking block protection systems for bridge
abutments, boat ramps, channel linings, etc.

Concrib Offers a Choice Maximising Land Values Concrib concrete sleeper retaining walls have mostly been constructed using our reinforced concrete piers,with the sleeper beams place behind the piers to complete the system.

This offers an attractive economical wall system. In some circumstances it is desirable to have the front face of the retaining wall to be coincident with a property boundary. To address this possibility Concrib can offer our system utilizing hot-dipped galvanized columns in place of the concrete piers. This treatment gives a flush finish as well as the ability to extend the columns above the top of the wall, thereby enabling acoustic fencing to be incorporated if required.